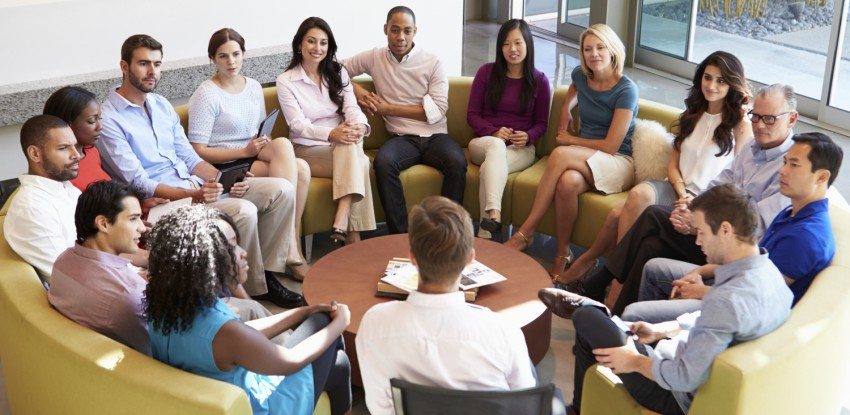 PERSONAL DEVELOPMENT GROUP
Wednesdays, 7:30-9:00pm
What is the Personal Development Group?
The goal of the Personal Development Group is to become more aware of our impact on other people, to better understand ourselves, to discover what holds us back from living a more fulfilling life, and to learn how to have more satisfying relationships.
How does it work?
The Personal Development Group is a space where members are invited to express their immediate, here-and-now thoughts and feelings towards and about other members. If your reaction to this is "why would anyone subject themselves to such an environment?" you are not alone. In Group, members are encouraged to abandon many of the social norms of polite discourse. This is a place unlike anything you've ever experienced. Group members are asked to put into words any and all reactions they have including anger, sexual attraction, fear, hurt, and affection. As the group progresses, members learn to express their sentiments in a way that focuses on their own experience:
"I feel frustrated and angry when
you yawn while I'm speaking."

"I feel hurt and scared when you
yell at me and call me that."

"I feel very attracted to you."

"I feel a lot of affection for you
and I'm angry because I think
you're making a bad decision."

"I want to say something but I'm
anxious that you will judge me."
This feedback about members' effect on other people is hard to come by. Friends, family and acquaintances are rarely so direct, preferring either to avoid unpleasant conversations, or relying on unhelpful habits of criticism and blame. Even individual therapists may struggle with sharing a perspective that is difficult and uncomfortable for their clients to hear. Group provides a rare opportunity for members to come to understand themselves and to discover new ways of being. Members learn to access and express their own emotions and to comprehend and respond to the emotions of other people. They discover how they might sabotage relationships and explore how to create and sustain intimacy, to ask for what they need, and to receive it.
Is the Group right for you?
Do you like a challenge? If Group is run well, it is almost always a challenging experience. Members are confronted with their fears and limitations. They are pushed to be present, vulnerable and creative. They move closer to feelings they usually avoid. Anxiety and frustration are constant companions. If a member comes late or misses a session, the group leader wonders what interpersonal message is being communicated. All actions and impulses are put into words. Desires to hug, hit, hurt, make love, kill, and so on are verbally expressed. Body language and movement that is generally ignored is called to attention. Patterns of relating that formed in childhood are brought into awareness. Members experiment with new options and develop flexibility and emotional suppleness.
Joining Group is a commitment and an investment. It is not a support group, though it can be deeply supportive. It is not for the faint of heart, though it can be heartwarming.
Cost
The group fee is $60 per week and is not covered by insurance at IPG. We do accept a sliding scale of $35-60 strictly to accommodate economic necessity. Group is an enhancement, not a substitute for individual therapy. It is not for people in acute crisis, active addiction or active suicidality. Members who are not currently in individual treatment will be encouraged to pursue individual therapy while they attend group. Group members will be expected to agree to:Come to every session, come on time, pay the established fee and remain for the entire meeting.
Maintain confidentiality.

Use relationships made in group therapeutically, not socially.

Stay in their seat during the session and say what they're thinking and feeling, especially about the other members in the moment. Nothing is acted out, only words are used.

Give as much notice as possible and arrange payment for absences. Group members are renting a seat in the group and will be charged for all sessions whether present or not.
Jacob Winkler, LCSW
Jacob Winkler provides Group Therapy at IPG. He received his Master's in Social Work from Rutgers University and has pursued training at the C.G. Jung Institute of New York, the Center for Group Studies and in Somatic Experiencing. Mr. Winkler also runs the Group Therapy program at the Blanton-Peale Counseling Center in Manhattan, where he has worked with adults of all ages struggling with anxiety, depression, social phobia, difficulties with aggression and problems with intimacy and relationships. Mr. Winkler maintains a regular blogpost all about group therapy- GroupTherapyNJ.
Interested in Joining Us?
Please contact Jacob Winkler, LCSW, to arrange a consultation.
Email: jwinkler@insightpsychgroup.com
Phone: 804-404-5679